» Tours in Nicaragua
Tours in Nicaragua
Tours in Nicaragua
Nicaragua by Bicycle Map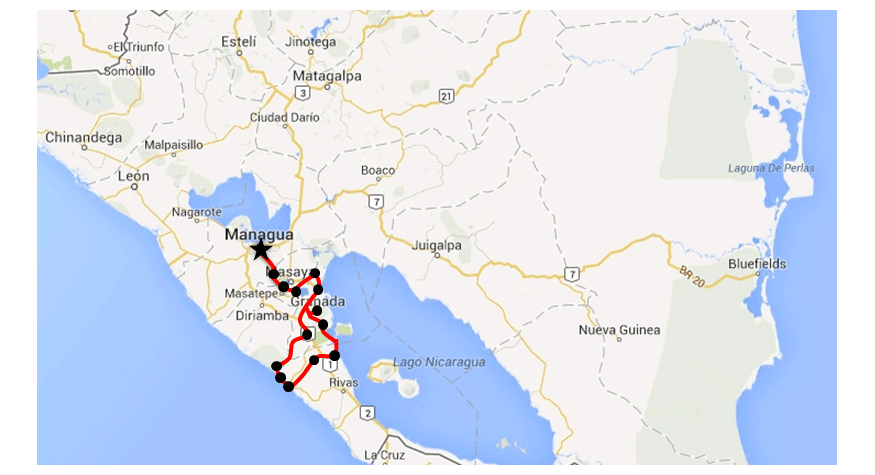 12 Days / 11 Nights – (# Ref: LNI010AS)
Highlights
– Multiples landscapes and ecosystems: lakes, volcanoes, oceanic beaches, colonial cities and towns. – Cycling ascents to enjoy a breath-taking view of Masaya Volcano. – Crossing "The white towns" and a crater´s lagoon. – Explore ancient colonial city of Granada and Asese peninsula with its countless islands. – Stroll along the wildlife refuge Chacocente
Flight to Managua, located on the southern shore of Lake Xolotlan. Reception at the airport gates and transfer to Granada for an overnight stay in a hotel. First diner not included.
Note: Night: in colonial hotel in Granada, Cycling: 00, Transfer: private 1h00-50km.
 D2: Ticuantepe – Masaya Volcano /Brfst., Din.
After a hearty Nicaraguan breakfast, test out your mountain bikes in Granada, then off on the famous local Nica "chicken bus" to Ticuantepe. Gently trek up to the ancient crater, enjoying views of the valley and pineapple fields. Enjoy a perfect picnic with 380º panoramic views, contemplating Masaya Volcano; descend through tranquil lunar landscapes to a wild lagoon, biking through ancient lava flows. Then off to Masaya volcano park where the super-strong can bike to the summit. Day+Night visit: Discover the volcanology center, giant crater with its pre-Columbian sacrifice site and inside a "lava tube"; once again at the mega crater , look for red light from lava glowing inside the magma chamber.
Note: Night: in Eco hotel. Cycling: 21.5km-2h30, +370m -300m. Difficulty: 2/5, Transfer: Public Local bus: 1h00.
 D3: Masaya – Catarina – Apoyo crater lagoon /Brfst., Din.
A long, beautiful climb from El Corozo to Niquinohomo, past rare isolated houses, crossing the mythical Pan American and on to «Pueblos Blancos », villages like Catarina with its lime-painted houses, handicrafts and picture-postcard views above Apoyo Lagoon. After having lunch at a viewing point in this protected nature reserve, ride along the crater before descending to the volcano's depths. Relax in the hotel on the doorstep of this lovely blue lake which invites you for a refreshing swim!
Note: Night: in Eco lodge. Cycling distance: 26-36km-6h00, +200 m – 370m. Difficulty: 4/5
 D4: Apoyo – San Brast – Isletas Granada
Push the bike (take a taxi if tired) up the steep crater, passing Catarina's craft market and breathtaking views over the Apoyo lagoo. Then, along shaded roads and cobbled paths, you reach San Brast: abandoned church and ruined station remind us of a ghost town in the Wild-West in the middle of sugarcane and endless peanut fields. Reach the Asese peninsula, and its 300 "isletas", green labyrinth full of aquatic birds. Picnic on an islet and bathe, taste coconut in a fishermen´s family and kayak through this natural haven. Back in Granada have dinner in a local restaurant, reflecting on the tranquility of the isletas and how close you got to the birds.
Note: Night: in colonial hotel. Cycling: 48km-5h30, -470m. Difficulty: 2/5, Transfer: Microbus: 0h20.
 D5: Nandaime – Río Escalante – Parque Natural de Chacocente
Bus to Nandaime, set out on a green, very hilly rural route, which later joins a large riverbed, so there are fords to cross, pedaling or pushing bikes in the deepest stretches of water. Pass a forest gallery through the Chacocente-Escalante Nature Reserve, seeing dancing butterflies under the multi-shaded glades. At the National Park, prepare for a night of discovery, dining at a park rangers' camp before going to the beach at night and with luck witnessing a magic spectacle, sea turtles between July and December with help of our local guide.
Note: Night: in Wildlife Refuge. Cycling: 40km-5h30, +280 -430 m. Difficulty: 3/5, Transfer: local bus: 0h50
 D6: Chacocente – El Astillero – Popoyo
Bike along a dirt coastal road to the fishing village "El Astillero", to meet a community group of women who gather plastics from beaches to weave into quality handbags. Walk along the beach to watch the fishermen's activities, then take the coastal route. Swim in natural pools of crystalline thermal waters right in the middle of nature. Deeply relaxed after a few laps, bike through the Salinas to look around the white landscape, and harvest some salt. Arriving at Popoyo beach, rest at your hotel and recover on the beach, maybe surf a little in the divine waves of the Pacific Ocean! Watch the coming and going of surfers and see fishermen emerging from the waves, their nets and boats full of fish.
Note: Night: in near to beach charming hotel. Cycling: 15km, 1h30. Difficulty: 1/5, Transfer: local
 D7: Popoyo – San Marcos (Belén) – Estancia El Copo Reserve
At the edge of huge lake Cocibolca and across the Isthmus of Rivas, witness the sparse vegetation, cactus and rocks, replaced by tall trees providing a healthy shadow. Cross several peaceful hamlets, where a simple "hi" gesture instantly rewards you with a big smile; ride up hills and down steep dales to San Marcos – Belén. After a healthy, delicious lunch at a local farm (an artisanal honey producer), a gastronomic discovery with local habitants, hit the road towards a breeding farm that develops ecotourism and conservation activities in its wonderful private nature reserve- "El Copo" on the shores of Lake Nicaragua.
Note: Night: in natural reserve lodge. Cycling: 43km, 5h30, + 240 -220 m. Difficulty: 3/5
Spend the day exploring the reserve and its surroundings. Choose between walking along a variety of trails to observe the fauna and lush flora, learning how to produce local products (cuajadas, honey), turning your hand at a skill (eg milking cows). The surroundings are also ideal for cycling, through the reserve's vast lake plain, especially in the beautiful bay of El Menpo.
Note: Night: in natural reserve lodge. Cycling: (0 to 4 hours depending on the activities chosen
 D9: El Copo– Mecatepe Lagoons – Nicaragua Libre Rural Lodge
Leave early through culture spots and marshland, (using different routes during dry or green season) till you reach the "Lagunas de Mecatepe" nature reserve before lunch. Here is a green paradise enclosing a river that emerges from the ground, at the foot of Mombacho volcano; dip in the crystal clear water with ideal temperature for resting and lounging in the jungle. Finally, cycle ten kilometers to the Nicaragua Libre cooperative where, under the shade of old giant trees, you may reflect on the day you spent in the enchanting landscape.
Note: Night: in lodge, agriculture cooperative. Cycling: 15km, 0h15, + 320m -80 m. Difficulty: 3/5
 D10: Mombacho Volcano – Granada colonial city
Discover the slopes of Mombacho volcano on horseback. After an hour under high primary forest (you may see momots, trogons and parots), you enter the park, ascending in a 4×4 truck to the ranger`s station. You may walk 2 hours between the peaks that crown the old craters, in an amazing cloud forest with 750 species of plants and spectacular scenic views over Nicaragua. Later, by bike or bus, return to Granada (10km). Explore this Spanish colonial jewel and oldest city (1524) of Central America with a "City Tour For Fun" (biking sightseeing, visits to artisan´s workshops and other more unusual activities!) then wander freely in the old colonial downtown. A beautiful end to this cycling trip. Last diner is not included.
Note: Night: in colonial hotel. Cycling: 10km, 0h30
Transfer to Managua airport
Note: Transfer: 1h00
 D12: Arrival to Europe (Only for European tourists)
PRICES: 2 persons: US$ 1.504 3 persons: US$ 1.287 4 persons: US$ 1.157
Minimum 4 Participant
For more recommendation details please download the PDF version of this program. Recommended equipment: • 1 pair of excellent quality sunglasses • Powerful binoculars for animal observation • 1 isotherm bottle or a water pocket on the backpack. You can buy a bottle of water and refill it during the trip. • 1 Headlamp • 1 small bag (preferably waterproof) to put your money • Toilet bag: buy preferably biodegradable products • 1 towel: fast drying, Packtowl types (4 sizes). • earplugs to reduce noise (optional) • Toilet paper or handkerchief • plug adapter (US model)
Personal pharmacy • Your usual medications • Vitamin C or multivitamin • Medication against pain: paracetamol preferably • Anti-diarrhea (loperamide or Tiorfan…) • Broad-spectrum antibiotic treatment: provide 8 days of treatment (on prescription) • Eye drops (dust, blindness) and antibiotic eye cream • Tablets for purifying water (or strong Micropur Aquatabs type) • Elastic adhesive tape (Elastoplast type 6 cm wide) • Bandaids + compresses disinfectant • Anti-inflammatory ointment • Treatment for colds and sore throats (pellets) • High protection sun cream and cream kind Biafine • Protection against blisters • Powerful mosquito repellent
– A transfer to / from the airport on arrival and departure – Biking guide and monitoring. – All the scheduled visits and excursions (not included if mentioned as optional) – Accommodations, breakfasts and diners (except diners on days d1 and d10). – Transport of 1 bag with your personal belongings and access to them on nights of : day1, day4, day7, day8, day10.
– Bikes and Insurance – Entry taxes ($ 13) – Tips – Drinks – Lunches and first diner and last diner (you must provide and sometimes prepare some sandwiches for lunch with your companion guide). Consider $ 3 for a quick meal on the street, 5 to $ 8 in a "cafetin" or popular restaurant and $ 10-20 in a touristic restaurant.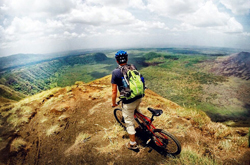 Price:
Minimum:
Tourism Type:
Level & Rhythm:
Accommodation:
Code:
$ 1157
4 Participants
Ciclotourism
Lev 3 (Advanced)
Standard
LNI010AS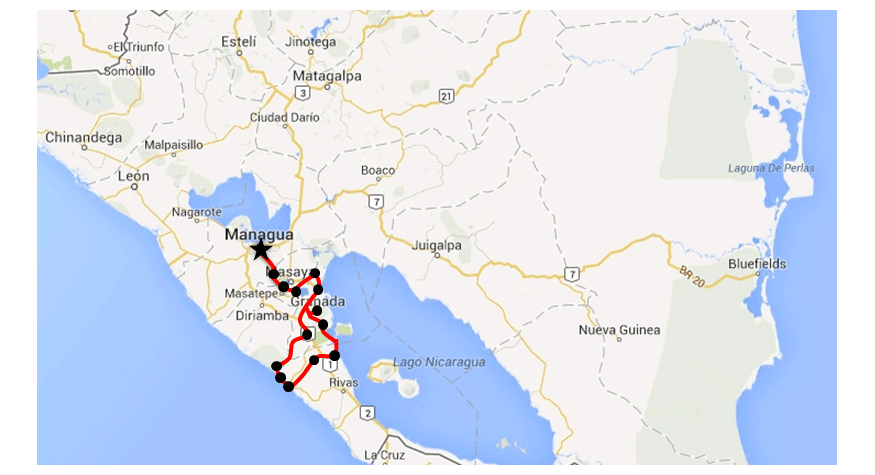 Download PDF
Max
Min
Nicaragua by Bicycle Reviews
No comments yet!