» Tours in Nicaragua
Tours in Nicaragua
Tours in Nicaragua
Costa Rica and Nicaragua: Actives adventures Map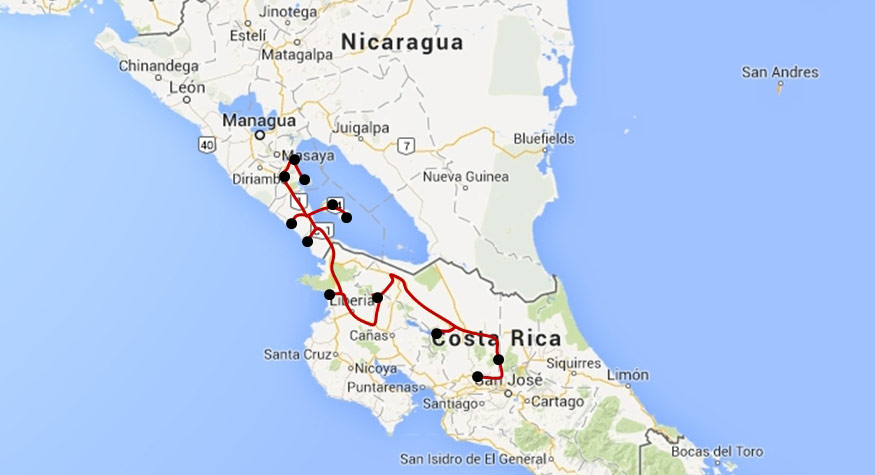 Costa Rica and Nicaragua: Actives adventures
15 Days / 14 Nights – (# Ref: LBI050GS)
Highlights
– Relax in sauna and thermal waters in the middle of jungle – Horse ride between geysers & volcanic mud pots – Discover sea turtles reproduction in their environment – Zip-line above Concepción volcano – Swim into Apoyo crater lagoon clear waters
Stage: Paris – Alajuela / Costa Rica From France on a regular Paris / San Jose flight (starting from own province – on request and subject to availability). Reception at Alajuela airport and transfer to our nearby hotel (10 min). Light dinner in a restaurant in the town and briefing on the trip.
Note: Night:, in hotel Transfer: 0h00 , Walking: 0 Km, … meals not included – flight unaccompanied
 D2: Volcanoes: sound and light
Hike across Poás Volcano coffee plantations. Enter the national park, then reach an altitude of 2.700m on a short pass through a cloud forest and dwarf rainforest on the mountainside. Lunch on the flanks of the volcano in front of the vast Central Valley. Stop in a centre of steaming natural thermal waters, right in the middle of the jungle. Dinner at La Fortuna, at the foot of the cone of Arenal Volcano.
Note: Night :Rustic bungalows , Transfer: , Walking: 1h
 D3: Like at the zoo, but for real!
During breakfast, watch birds of various species in the colorful tropical rainforest. Then, we go on to explore the surrounding forest, along a path ripe for through terrariums of insects, snakes, spiders, and coloured frogs. Finally, we visit a butterfly farm. In the afternoon, we enter the national park of the famous Arenal Volcano where we reach a lava flow from 1992.
Note: Night: Rustic bungalows , Transfer: , Walking: 3h
 D4: Suspension bridge in the forest and tropical river walk
Walk in the rainforest along a trail, crossing numerous suspension bridges. Then tour around Lake Arenal to reach the sunny side of the Guanacaste mountain range. After lunch, visit, by boat, crocodiles, iguanas, American storks, kingfishers, Amazonian pink spoonbills, white ibis and other amazing inhabitants of a tropical river. Late arrival on the flanks of a new volcano, Rincon de la Vieja!
Note: Night: stay in a lodge on a farm , Transfer: , Walking:
 D5: The entrails of the Earth
Ride for the day in the Volcano's National Park on foot, or horseback. We start with a walk through a 'strangler figs' forest to discover geysers, volcanic mud pots and hot springs. Then, we reach the middle of the park to a sunny in the middle of nature. Picnic. Return and settle into a converted eco farm at sunset.
Note: Night: , Transfer: , Walking:
Goodbye to our hosts to drive to the Pacific Ocean for snorkelling to observe a multitude of multicoloured fish. Picnic in a creek and return to the port to enter the mangrove of a small estuary which is teeming with life! Aperitif in the village and fish supper in the home of a fisherwoman!
Note: Night: in the hotel Transfer: , Walking: …Dinner in the village
Morning departure to Nicaragua. Stop at picturesque fishing village on Pacific coast, San Juan Del Sur, then Ostional, by taking a local community bus, to immerse ourselves a little in local life. Arrive before nightfall for a fish supper and our accommodation in a rural cottage.
Note: Night: Transfer: , Walking:
 D8: The turtles are coming!
Free morning in the village. Lunch before sailing to a deserted beach for a hike along the coast, passing beaches and jagged rocks , in wildlife company. On arrival, swim on the turtles' beach in a nature reserve. Meeting with the park rangers. Visit the protected beach, in season, to discover the amazing way these sea turtles reproduce. Return by van, for a second night in the cottage.
Note: Night: Transfer: , Walking:
Local bus to San Juan Del Sur. Transfer by minibus to the port of Rivas and San Jorge. Boat trip to Ometepe to visit the Concepción volcano in a vehicle. After lunch, walk in the forest, across ancient lava flows, in an attempt to observe monkeys. Then we can swim in a landscaped jungle at the foot of the volcano at dusk before walking back to the hotel .
Note: Night: in a little hotel beside the sea,, Transfer: , Walk: 1½ à 3 heures
 D10: On the back of a docile Nica « nag »
Morning walk (on horseback for children under 12 years old, their parents holding reins) to a cooperative farm owned by about 30 families, where we'll taste organic coffee, before participating in harvesting coffee beans (on season), before visiting of an important pre-Columbian petroglyphs site. After lunch, visit of a horticultural farm, to learn to recognize some tropical fruits. Then new horse-ride to back to the hotel along the beach until sunset.
Note: Night: in hotel, second night in Ometepe , Transfer: , Walking: 4h on foot
 D11: In the fresh air of the Concepción Volcano and the fumes of the Masaya Volcano!
Morning canopy tour, flying above the lake and under the gaze of the Concepción volcano between trees which are hundreds of years old . Then, we take the road to the city of Granada, and discover the (active) Masaya Volcano National Park for the night tour, watching its large crater, and exploring a long lava-tube. Return and dinner in Granada.
Note: Night: in the hotel , Transfer: , Walking:
 D12: Spicy fruit cocktail
Morning walk in Granada, visit to the fruit and spice market and to some craftsmen's stalls. Discovering of huge colonial mansions roofs from the cathedral tower, before boarding one of the old-fashioned horse-drawn carriages to make a city-tour. The afternoon, we go for a kayak ride on the lake amongst the famous 300 « Isletas», in a wonderful wildlife labyrinth.
Note: Night: second night in the hotel in Granada , Transfer: , Walking: 3h visiting the town on foot.

Itinerario 12 días D13: On the ridge of the crater, and into the lagoon
Transfer to Catarina. Walk along a ridge around the Apoyo before visit this village of horticulturalists with its pottery workshop. Lunch high up ,looking at the view before reaching the lagoon in the crater to swim in its clear waters. Visit of the Masaya craft market. Evening traditional dancing show and free dinner on site. Return to Granada and free dinner
Note: Night: third night in the hotel , Transfer: , Walking:1h or 3h walk
 D14: We have walked on volcanoes
Breakfast then transfer to Managua airport for return flight to France (arrive in France on "Day 15" of the program); or return by international coach to San José, Costa Rica (about 9 hours travel, by luxury coach: TV and reclining seats) to fly the next day from San Jose to France (arriving in France on "Day 16").
Note: Night: in flight or in hotel according to the flight plan (via Managua or San José respectively) , Transfer: , Walking: Meals not included – Travel by bus (if applicable) unaccompanied – Flight unaccompanied.
 D15: Goodbye Nicaragua (For European tourist)
Minimum 4 Participant
– Accommodation (find at end of every day details the type of hotel selected) – Most Meals (You will have 1 – 3 opportunities to dine on your own so you can discover a location independently) – Private Transport – Professional Guide – Entrances and Tours – Airport Transfers
– Drinks – Desserts (It might be the possibillity to get dessert in some restaurants already included) – Entrance and Departure Taxes – Tips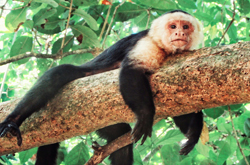 Price:
Minimum:
Tourism Type:
Level & Rhythm:
Accommodation:
Code:
$ 1923
4 Participants
Family
Adjustable
Standard
LBI050GS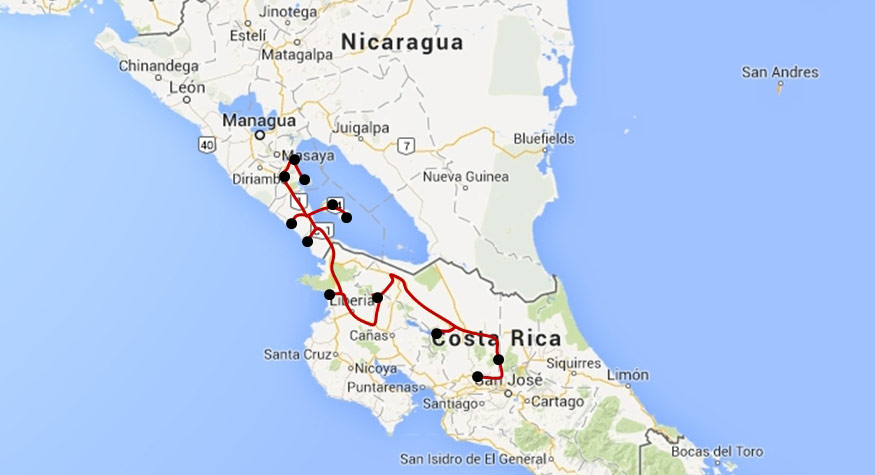 Download PDF
Max
Min
Costa Rica and Nicaragua: Actives adventures Reviews
No comments yet!